What are some common misconceptions about marwadis
Riding holiday in India: numbers, facts and tips
In November I rode through Rajasthan on the wonderful Marwari horses of Princess Trails for a week (here you can find the detailed article about the riding tour). Afterwards I added a week's round trip from Delhi via Jaipur and Karauli to Agra.
This article is about information about the procedures of the riding trip, the journey, the culture shock, the hygiene, the safety as a woman in India, the horses, tips on all possible areas and of course the costs.
getting there
From Germany, a direct flight to Delhi takes 7 - 8 hours. If you want to travel a little cheaper, there are also flights with a stopover. I flew over Bahrain with Gulf Air, which increased my flight time to about 10 hours but cost me significantly less. It is also worth looking for flights to Mumbai. From Delhi or Mumbai (if you are doing a tour with Princess Trails) you have to take a train or a domestic flight to Udaipur anyway. I chose a domestic flight to save time. With IndiGo and a cost of around 40 € each way, it is quite cheap to fly within India. I would also advise anyone visiting India for the first time to take a flight. It's more relaxed than plunging into Indian chaos after the long journey to get to the train station.
You should make sure that you have enough time to check-out and check-in luggage in Delhi between flights and allow for visa control! You also have to take the airport shuttle from the international to the domestic terminal. For me it took about 3 hours from getting out of one plane to boarding the next plane. But I also arrived at 4 a.m. and it wasn't very busy, at other times I would allow for more time buffers. It is worthwhile to apply for a "Visa on Arrival" online, there are extra counters at the airport and the check is quicker.
A Princess Trails driver picked me up at Udaipur airport and took me to the hotel in the city (I had told Ute my arrival time by email beforehand). Bhakwati really wanted to make a city tour tasty for me, but was very charming and accepted my "No, I want to go straight to the hotel" without complaint.
The departure from the hotel was also uncomplicated and easy: I told Ute and her husband when I had to go to the airport and a driver was available at the agreed time.
Tips:
As a German you need a visa to enter India: apply here "Visa on Arrival" (also called e-Visa), this is the fastest and cheapest way. In addition, there are extra counters for people with this visa when entering Delhi (or Mumbai) and the processing is faster. You can apply for this visa at least 4 days before the date of entry - but I would recommend doing it earlier if something goes wrong and you need more time. The visa is then valid for 60 days from the date of entry.
If that doesn't work with the e-Visa, you can also apply for a visa at the Indian embassy in Germany.
Plan enough time at Delhi Airport to check out your luggage, have your visa checked and - if you are traveling by plane (which I recommend) - switch to the domestic terminal and check in your luggage again. For me, 3 hours was enough, but I would expect 4 hours (or more) to be on the safe side.
A shuttle bus takes about 20 minutes from the international terminal to the domestic terminal. When you come out of the airport building, you should ignore all taxi and rickshaw drivers (with a shake of your head and "bus" you can get rid of them quickly) and go to the small counter on the right across the street (you can see a sign with the departure times there). When you show your flight ticket you will receive a bus ticket free of charge.
You can use the Indian low-cost airlines such as IndiGo or SpiceJet without hesitation, the standards are no different from RyanAir or AirBerlin. I flew with IndiGo and was very satisfied.
If you don't want to fly but rather take the train, book your ticket in advance and in the somewhat more expensive Air Conditioned Chair Car (CC) class. You can find out more about train travel in India here.
If you drive with drivers, it can always be that they suggest you take a tour of the city, want to take you to their son's shop or go to the family for a chai. Don't be afraid to say no clearly and say that you want to go to the hotel (or wherever you want to go).
culture shock
The Indian tourism industry's advertising slogan is "Incredible India". And that is exactly how it is!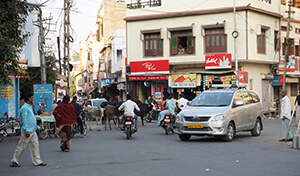 When you roar through the crazy traffic between cows, rickshaws, trucks, pedestrians and street dogs in an Indian taxi for the first time and try to see everything at once, you are inevitably a little overwhelmed.
Before the trip, I thought about how I could cope with the many people, the chaos and noise, the dirt and poverty (I'm more of someone who likes to be quiet and finds crowds annoying). In fact, I found the small part of India that I saw better than its reputation. Yes, it is chaotic, noisy and dirty in places, but much less than expected. You don't see poverty in the extreme form that I would have expected (which may be due to the fact that as a tourist you are only in the country for a short time). Of course there are beggars (as in Germany) and of course the people are usually poorer than in Germany, but I haven't seen any real misery that would have shocked me (by the way, not with the animals either: the street dogs and cows are from fed the people - the Hindu belief in rebirth and karma means that the animals are better off here than, for example, in Tunisia, Egypt and Co.). In fact, I really enjoyed the hustle and bustle and the pure, colorful life on the Indian streets - there is just so much to see!
What bothered me on the first day was the strangeness. The culture and surroundings were so different from what I was used to, that I no longer had any reference whatsoever to what is normal and what is not. For example, I could have said with difficulty whether I was in a good area or not. In India everything exists at the same time, the beautiful and the (in our eyes) ugly in one heap: a beautiful temple rises from rubbish ruins; from my luxurious roof terrace I can see a pile of rubble with goats searching for food. The abundance of impressions, noises and smells (contrary to many reports, not really unpleasant, I didn't find it really stinky anywhere) is simply overwhelming, especially when you have a long journey behind you.
But the culture shock quickly subsided - at least for me. The first day of the riding holiday consists of guided sightseeing in Udaipur (which is really worth it, the city is very beautiful) and you can acclimatise a little and learn the do's and don'ts. After a day I arrived and started enjoying the hustle and bustle. It's not that wild!
Tips:
Don't stress yourself too much. Be aware that there is culture shock and that it will pass again - if you find everything overwhelming at the beginning, that's normal and nothing to worry about.
Make sure you drink plenty and eat light meals when you arrive. Your body is already stressed by the long flight and jet lag, so you don't have to put additional strain on it.
Even if you are jetlagged: try not to sleep during the day, but keep yourself awake until the evening and go to bed at a normal time (a little earlier is also ok). During the day you can doze for an hour at most. If you sleep properly during the day, it will take significantly longer to get used to the daily rhythm on site.
I recommend arriving a day earlier. The tour officially starts on Sundays. If you only arrive on Sunday, you have a whole day of sightseeing ahead of you, which can be very exhausting. I arrived on Saturday morning and had an extra day to take it easy, to rest and get used to it.
Enjoy it! I always find it incredibly enriching to experience a culture that is so different from my own. There are so many different lifestyles and ways of living and it doesn't hurt to think outside the box at all.
Food & hygiene

In preparation for the trip, I heard a lot about food in India and hygiene. You can read some horror stories about the famous Delhi Belly (diarrhea) and poor hygiene. I can't confirm any of the experiences, me and my fellow riders were fine the whole tour (and I didn't have any problems in the one-week round trip afterwards).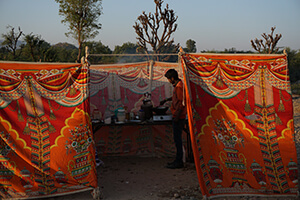 Ute, the owner of Princess Trails, is German and organizes the tours according to German standards. The food is bought locally, freshly prepared in the camp kitchen and is usually vegetarian, very tasty and not too spicy (we asked for hotter food from the cook on the second day and we got it). A commenter on Facebook warned me that I could take care of my hygiene, but not that of the people who prepare and serve me my food. But I can't say anything negative here either, the guys were all well-groomed and meticulous and I can't imagine that they don't wash their hands before preparing food. As already mentioned: none of the riders on the tour had any problems.
Tips:
Drink only packaged and sealed water, nothing from the tap (on the riding tour every rider has two liters of water in the saddlebags)
If you are sensitive, brush your teeth with just bottled water (I didn't)
Always order drinks without ice (this is often made from tap water)
Fruit only if you can peel it or wash it yourself (with bottled water)
Avoid lettuce
When eating at street stalls: eat where the locals eat and make sure that the food is well cooked and served hot (if in doubt, ask someone in the hotel where you can safely eat)
Take hand disinfectant gel with you and use it before eating (I only used it once in the whole time, but it can't do any harm)
There are various herbal remedies that can be taken to strengthen the stomach in advance, if you know that you are sensitive to foreign food - simply seek advice from the pharmacy
I firmly believe that the food topic shouldn't be too crazy about. The Indians are not from the day before yesterday and are quite able to prepare their food hygienically, especially on a riding tour.
Horses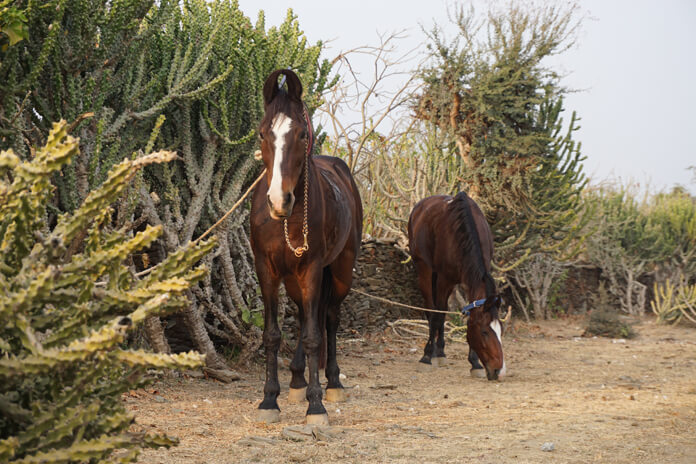 Marwari can best be compared with Arabs: they too are wiry, distance horses, intelligent and people-oriented. Marwaris are a bit larger and more massive than the typical Arab and of course have the unique, elegantly curved sickle ears. In the times of the Maharajas they were the horses of the Rajputs, the warrior caste. And I imagine that I can still notice that today: the horses are fearless, sure-footed, tough, intelligent and lively, with a completely clear head. To this day, they can only be ridden in India: Marwaris are not allowed to be exported to protect the breed.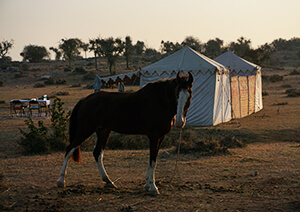 The horses at Princess Trails are in good condition, they react sensitively to the rider's aids, fearlessly master all sorts of situations, from threatening water buffalo to chaotic traffic and combine the typical, good characteristics of the breed. I never felt uncomfortable or unsafe for a second on my mare Chandni. In a nutshell: they are just a lot of fun!
When the horses are not going on tours, they live in herds on the large farm area and even have their own lake. You will be trained by Ute according to the principles of natural horsemanship.
Tips:
Don't drive yourself crazy: the horses are great and there is enough time on the first day to get to know each other and get used to each other.
Trust your horse and dare to take the lead from time to time: especially in the mountains, horses know better than you which path to choose.
Don't be afraid of riding through villages and on the streets: the horses are absolutely relaxed when it comes to Indian traffic.
Take treats with you for your horse, this is allowed and it will be very happy.
Spend some time with your horse during lunch breaks: at first I just patted Chandni, later I also massaged it lightly or wiped it with my hands. At first she was a little suspicious, but later she visibly enjoyed it and I imagine we built a relationship with each other that quicker.
If you are more of a riding arena acrobat at home: don't lose your nerve climbing through the mountains. The horses are experienced and know what they are doing, they manage the route easily and they don't mind walking over scree.
Riding tour
Daily stages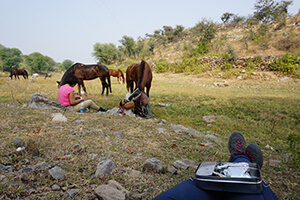 On the Aravalli Safari, you sit in the saddle between 5 and 6 hours a day for five days. At lunchtime there is a break of around one and a half hours, the horses graze and doze, the riders eat their packed lunches (naan or chappati with vegetables and hard-boiled egg) and doze.
Very few riders are used to such long riding units in their everyday life, not even me. Nevertheless, you can keep up with some basic fitness and of course riding experience. My bum hurt a bit after the first day, but I could fix it with a lambskin on the saddle. Nobody else had any problems on the tour either.
daily routine
The departure from the camp is around 9 a.m. We were mostly up at around half past seven and had a leisurely breakfast and enjoyed our fresh chai or coffee.
After that, you will ride for 2 - 3 hours, take a 1.5 hour lunch break and ride for another 2 - 3 hours. Arrival at the camp in the afternoon. After a quick wash and a chai or coffee with biscuits and fruit, the jeep goes sightseeing: temples and fortresses want to be visited and admired. If you are too tired or don't feel like it, you can stay in the camp - but I would recommend going with you, it's worth it!
The sun sets at around half past six and the camp is only lit by the campfire and gas lamps. A good opportunity to wash off the dust of the day in the shower trolley and then exchange stories by the fire while waiting for dinner. Around 7 there is dinner. After that, we usually went to bed with our hot water bottles very quickly, as it gets quite cold in the Indian winter (around 8 degrees).
The camp
The camp is set up in a new location every day and is usually remote and in beautiful locations. It consists of several large double and single tents (depending on how booked), a shower and toilet trolley, a food trolley, the kitchen and several stretched strips of fabric as privacy screens.
Running water is only available on the toilet cart (and only because it is filled into a canister there), but you have to shower with water from a bucket that is heated over a fire (the typical "Indian Bucket Shower"). There are also cabins with lockable doors. The bucket works so well and saves water that I kept it that way on the further trip in the hotels (the buckets are always there in the shower, you let hot water run in and then pour yourself over a smaller mug).
There is no electricity, at night the camp is lit with gas lamps and a campfire. So it's a good idea to take a flashlight or headlamp * with you, especially when you are in a tent.
We ate in the open air at a large table in the middle of the camp. Usually there is a soup as a starter, a selection of Indian, vegetarian dishes with rice and naan or chappatis as the main course and a small dessert. The food was initially quite mild for my taste and we told our cook early on that he could cook a little spicier. So when in doubt, it is carefully seasoned for the European palate.
Pipipause on the way
As a rule, one is on the tour away from civilization. You can also pass through villages and small towns on the route, but there are usually no public toilets there either. The only thing left on the riding tour is the jump behind the next bush. Personally, I prefer it to public toilets because it is definitely cleaner, more hygienic and doesn't smell bad.
Because there are always people who have never been behind the bush: You can practice that at home beforehand. It's not difficult at all: Pants down to your knees, crouch down and watch your shoes (sorry if that's too much information now). What you should definitely not do: drink too little to avoid having to go to the toilet. Every rider has two liters of water with them for the day, which should also be drunk, it is quite hot in Rajasthan during the day even in winter and you definitely don't want to be dehydrated.
Tips:
Pay a little attention to your fitness in the months before the tour. Maybe go hiking now and then, take the stairs instead of the elevator, things like that. In the mountains it can sometimes be that you have to walk up or down a slope, but overall I found the tour not terribly physically demanding.
If you tend to chafe: wear seamless underwear, do not shave (shaved skin has no anti-slip protection through the hair and therefore rubs off faster) and invest in long-distance breeches (be careful, they have no trimmings in the seat if you are not used to them it might feel a bit slick at first).
In winter, the temperatures go into the single digits at night, remember to bring a thick sweater and warm things to sleep with (you can find my packing list here). Otherwise there are also blankets and hot water bottles in the camp.
Put your riding gear under your warm blanket in the morning while you are brushing your teeth - so they are already warmed up when you put them on.
During the day it is around 26 degrees in the shade, so make sure that you drink enough while riding - there are always two bottles of water in the saddlebags.
Take a bum bag with you for things that you want to get to quickly while riding (cell phone, camera, Labello, Tempos, sunscreen, etc.). There are four saddlebags on each saddle: two are filled with water, one with the lunch box, and one is at your disposal.
Take a flashlight or headlamp * with you.
security
One thing must be clear to you when you book such a vacation: everyone and their mother will serve you all the horror stories about India that they have ever heard from the brother-in-law of a friend's cousin or read in the newspaper. This happens out of a feeling of concern for you, which is nice, but doesn't help you. As a rule, these people have never been to India themselves and cannot assess the situation. For me it actually went so far that I got on the plane with a stomach ache - and I hate traveling to a country with such prejudices. Fortunately, after the first few hours in the country and many encounters with friendly people, they quickly disappeared.
Yes, India is not an easy country, especially as a woman. For many (by far not all!) People here women are still second-class citizens and are treated accordingly. Bad things happen to women in India every day. But bad things also happen to women in Germany and Europe every day. When you consider how many people live in India and that the state of Rajasthan alone is already far larger than Germany, you have to put that into perspective.
I don't want to say that nothing can happen to you in India and that you are completely safe. But the probability is negligible on a guided horseback riding tour, on which you are never alone. I never felt uncomfortable or threatened in the country (and I was out and about in Udaipur for one afternoon) and the people were friendly and helpful. Of course, as a white woman (on a horse) one is stared at, but not only by men, but also by women and children. You just have to live with that and it is usually not an unfriendly, but a curious stare - you just have to smile and a smile or a greeting comes back (with men, however, depending on the situation, it is better to just nod politely, so that no misunderstandings) come up). If that bothers you a lot, you can wrap a light scarf around your head, this will soften the attention a bit.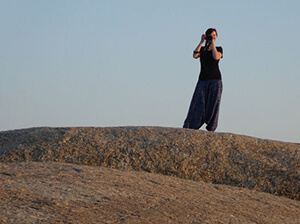 But it goes without saying for me that you don't dress too revelantly according to the culture and that you behave appropriately! I wouldn't want to be alone in the dark, but in a group it's not a problem.
Tips:
Don't drive yourself crazy! Nothing can happen to you on a guided tour and India is not as violent as its reputation. Be careful and mindful, but there is absolutely no reason to be fundamentally afraid.
Read articles about culture and appropriate behavior in India.
Dress conservatively: I was always out in longer, loosely cut clothes that covered knees and shoulders (this is also a must for temple visits).
Don't walk around in the dark alone.
Always take a business card from your hotel with you: If you get lost or just want to go back, you can show the card to the next rickshaw driver - he will then know where to go (or who to ask).
Ask at the hotel how much a rickshaw ride costs to where you want to go, then negotiate the price with the rickshaw driver before you get in. As an obvious tourist, you will initially be given a price that is too high - trading is completely normal here!
If you have a bad feeling anywhere: wave the next rickshaw over and get out of the dust. If that is not possible, speak to well-dressed women or older men. I don't think you'll get into the situation at all, though.
In the more touristy areas, a lot of people will approach you and want to take a picture with you. It is up to you whether and with whom you take photos. With women, families and children I usually said yes, with individual men and adolescents rather no (which is then also accepted - with a slightly disappointed expression on the face).
Climate & Malaria
In Rajasthan it is around 26 degrees during the day in winter, but at night it gets quite cold with below 10 degrees. As a rule, it does not rain, the sky is cloudless blue. Therefore, you should remember to pack warm clothes for morning and evening on the one hand, and on the other hand always wear sunscreen during the day, drink a lot and cover your head - the deep winter sun is quite strong!
I did not take malaria prophylaxis because the area is not a malaria risk area in winter. But that is a decision that I made for myself after consulting a tropical doctor. I advise you to take care of your vaccinations in good time (some have to be repeated every several weeks) and then to inform your doctor about malaria.
costs
After my riding holiday at Princess Trails, I have added a week's round trip Delhi - Jaipur - Karauli - Agra - Delhi and will show the costs separately so that you can get an impression of how the prices are in India.
Riding tour (8 days):
Aravalli Trail riding tour (hotel on arrival and departure as well as food included): 1250 €
Visa: 40 €
Flight Frankfurt - Bahrain - Delhi there and back: € 470
Flight Delhi - Udaipur: 41 €
Flight Udaipur - Delhi: 42 €
4 x entries (palace, temple, fortress, museum): 9 €
2 x café visits (chai, coffee): 4 €
3 x rickshaw rides: € 3.20
Boat tour in Udaipur (optional): € 3.20
Extra night at the Hotel Boheda Palace (optional): 35 €
Tip for hotel and riding tour staff: € 20
Total riding tour: € 1,917.40
Round trip (7 days):
Round trip Delhi - Jaipur - Karauli - Agra - Delhi: 732 €
Breakfast buffet on average: € 3.20
Lunch on average: € 4.50
Dinner on average: € 5.80
Snacks, water, chai on average: € 0.60
Average admissions: € 2.50
Tips (whole week): € 20
Rickshaw rides (per trip): € 0.60 - € 2, depending on the distance
Food tour of Delhi (including tip): € 33
Cinema: € 2.20
2h yoga: € 2.60
India is one of the cheapest travel destinations anywhere. Food is incredibly cheap (on the round trip we ate a lot in upscale restaurants, at street stalls it's much cheaper - and also very tasty!) And rickshaws are great for getting from one place to the next. Except for food and pre-determined services such as massages or yoga classes, you should always and everywhere bargain, otherwise you will pay crazy tourist prices. But don't forget the tips!
To ask? Just write them in the comments, I'll definitely answer, even if it can take a few days!
Would you like exclusive information from Herzenspferd conveniently by email? Then sign up for the free newsletter, which appears irregularly every few weeks (whenever I have something interesting to say). There is no spam from me - I promise!
Herzenspferd.de will use the information you provide here to send you a newsletter email every few weeks (whenever there is something interesting to report). You can unsubscribe from the newsletter at any time using the unsubscribe link in the footer of every email, or by sending me a short message to
[email protected]
I will treat your information with care and respect. You can find more information on data protection here. By clicking on "Subscribe to the newsletter", you agree that I may process your information in accordance with these terms and conditions.
Latest heart horse shirts and shoes: