What's your wildest travel story
Our wildest road trip mishaps - a call to the blog parade
Travel creates experiences. Experiences create memories. Many of these memories will stay with you for a lifetime. And as it is so often ... what is the most important thing to remember? The funniest or most exciting moments, of course, but also the mishaps or small to large disasters. Anyone who breaks down on a trip may tell their grandchildren about it. We already have quite a few stories in store that will surely still haunt our heads in a good fifty years. Today you, as our reader, can slip into the role of a tense - or even annoyed - grandchild and listen to the best stories of our road trip mishaps.
P.S. The conditions of participation for the blog parade are at the end of the article!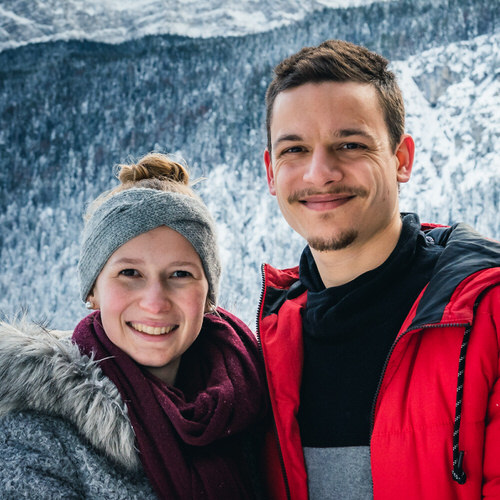 Hey you! Nice that you got lost to us! We are Felix and Julia, two incredibly travel-loving people. We have been exploring our blue planet for several years now. It all started with ... mhm yes, where did it all start? Maybe Felix's time in Australia is to blame. Maybe our year together in Madrid too. The fact is: the desire to travel is there and something is insatiable! Do you want to find out more about us? Do you want to know why we founded Secluded Time in the first place? Then just read on!
1. Road trip for beginners: Almost 2000 kilometers of screaming
Let's start with one of the more innocuous occurrences. Once upon a time on a sunny day in beautiful North Macedonia. Our six week road trip is drawing to a close. The sky is almost cloudless and our mood is serene when our car suddenly gives a heartbreaking scream. Iiiieekk! What is that supposed to mean? We stop, get out briefly and take a look under the hood. Nothing to see, feel or smell. The wheels also make a normal impression. So we get back in and the journey continues. We listened a little tense around us for the next ten minutes, but everything remains calm. So we start to forget.
We are granted exactly two hours of rest until the next indignant Iiiekkh comes up to us. This time louder, more emphatic, more shrill! It now sounds more like a iiiiiiiiiiiechhkk. Imagine a fork scratching slowly and with relish across a board. Then you know roughly what we mean. Another new feature is that the noise no longer stops. Every time we brake, we hear a terrible wail from somewhere under our seats.
Horrified, we park on the side of the road. Now Felix is ​​taking a closer look at the situation. We're both pretty sure the squeak is on the passenger side. So he pulls out the jack and removes the front right wheel. And indeed we find him, our screeching troublemaker. The brake on the right-hand side has worn off a lot more than the one on the left. So strong, in fact, that the wear indicator is noticeable. Oha! And now?
Extensive research on the Internet and a call to the mechanic we trust back home later on is certain: There is little that can be done in a hurry. We urgently have to return home because of a family celebration and have no time to present the car in a workshop. Fortunately, our mechanic confirms that it is okay to drive the car home. We only have to live with the sound.
The screeching accompanies us all the way home. In fact, it gets worse over time. As soon as the brake is used, you want to cover your ears. So in the middle of summer we cruise across the terribly hot Balkans with the windows closed. The sweat drips from our foreheads every second - our air conditioning has already said goodbye months before. Even with the window closed, a chill runs down your spine every time the next traffic light approaches. So we turn the music up so loud that we have at least muffled the penetrating Iiiieeehhk to a tolerable level. Why does it only take so long from North Macedonia to Germany?
2. Road trip traps: An almost robbery in Marseille
Marseille is on our red list of places that we will never visit again at one o'clock in the morning with a crammed car. But let's start from the beginning. It all starts with the fact that we have planned a semester abroad in Madrid. Because Julia doesn't like flying and it is cool to be mobile anyway, we decide that our car can accompany us to Spain. So we pack the little Honda so full that it collapses with panting gasps and immediately afterwards we are on our way. You can forget the rearview mirror and the stacking of the various bags is masterfully coordinated.
For the way there, we have planned a week's stay in France. If we drive through anyway, we can take a closer look at the country around the Tour Eiffel.
As always, everything takes a little longer, there is one or the other traffic jam, then two small food breaks and all of this means that we arrive really late at our first stop in France. We want to go to a small village east of Marseille. Unfortunately, to do this we have to go through the middle of the suburbs of the big city. Hui, they are gloomy. And confusing. We get lost and finally come to a top. A rickety, crooked sign to the right shows the highway. Phew, that's where we want to go. So what!
The relief vanishes with the first glance at the street into which we are supposed to turn. It consists only of a single thin track and meter-high walls tower up on both sides. A little apprehensive and suspicious, we turn off. The mistrust grows when we notice a man standing on the left side of the street with his legs in his stomach. As soon as he perceives us, he becomes active and seems to literally illuminate our trunk with his eyes. It's getting stranger and stranger here. I don't know why we're going anyway, but we're doing it. About a hundred meters away, the dark road makes a sharp left turn. We look at each other with concern. Alert rushes from every pore.
As soon as we have reached the bend and taken our first look to the left, it becomes clear to us that we have to get out of here immediately. At the end of the narrow street, a vehicle has positioned itself across the lane. Getting through is out of the question. Felix is ​​already on the brakes. The reverse gear follows and the gas pedal howls. With a maneuver that deserves a medal, he blindly reverses the car. Backwards we zoom down the narrow lane. The man who scared us at the beginning suddenly hangs on the phone. In addition, he is now in the middle of the street. Felix does not give in, however. He roars on, so that the man has no choice but to clear the way for us. A few seconds later we are relieved to have escaped the darkness and narrowness of this strange freeway entrance. That was certainly more than close!
3. How a road trip turned into food poisoning
Once again the story begins in the south of France. Our road trip took us via Genoa, Sanremo and Monaco to Nice. Man, this city is beautiful! Unfortunately, eating out was a bit expensive. So we don't treat ourselves too much. In the evening there are no drinks with the meal in the restaurant. You can understand that, right? After all, we are the poorest students. The waiter apparently sees it a little differently. When we still don't order anything to drink after asking three times, he slams a pitcher full of tap water in front of our noses with an angry expression. At least we assume that it is tap water. At that time we did not have much travel experience and therefore did not know that one should ask twice when abroad where such water comes from. So we drink the drink that was offered to us in such a friendly way without worrying about it any further.
This is followed by a quiet night and a wonderful morning in Nice, but then the fun really started. It is better to keep details secret, only that much is said. We both felt really dirty. Since then, we've never touched water again that we don't know where it came from.
Note: At this point, for reasons of fairness, we would like to mention that of course you can never say with absolute certainty where food poisoning came from. We only strongly suspect the water from that evening. No more and no less.
Call for the blog parade
Have you ever experienced a crazy road trip breakdown? Then we would be happy if you tell us your story in the form of a blog parade. In the end we will summarize all the posts on our blog.
Please note the following requirements:
Write an article of at least 500 words about your road trip mishap (s) and publish it on your blog!
Put a link on our article. In return, you will of course receive a link from us to your post as soon as the summary of the blog parade is online.
As soon as your post is ready, leave us a comment here with the link to your article. Alternatively, you can also send us an email to info [at] secludedtime [dot] com.
Submission deadline: November 3rd, 2020
---
Also read the following: