What are the advantages of sports tourism
I. A change in values: increasing popularity of fitness
Nowadays, the subject of fitness is not just about increasing your own performance, but also about relaxation, experiencing community and discovering new experiences and limits, and not only in Germany. Fitness and sports activities are becoming more and more popular and according to the fitness portal Peak.ag, fitness studios are currently experiencing a new boom, which is now placing higher demands on gyms and studio goers.
The focus is on the advantages of today's studios such as the existing sense of community when training together, the increase in performance at work and in everyday life or the positive effect on psyche, stress factors and well-being. The studios have become an all-purpose weapon against the negative stresses of everyday life, in which hours of sitting and a lack of movement are troublesome for the body. The number of participants remains at a consistently high level not only in sports studios, but also in many health insurance fitness courses or in sports clubs.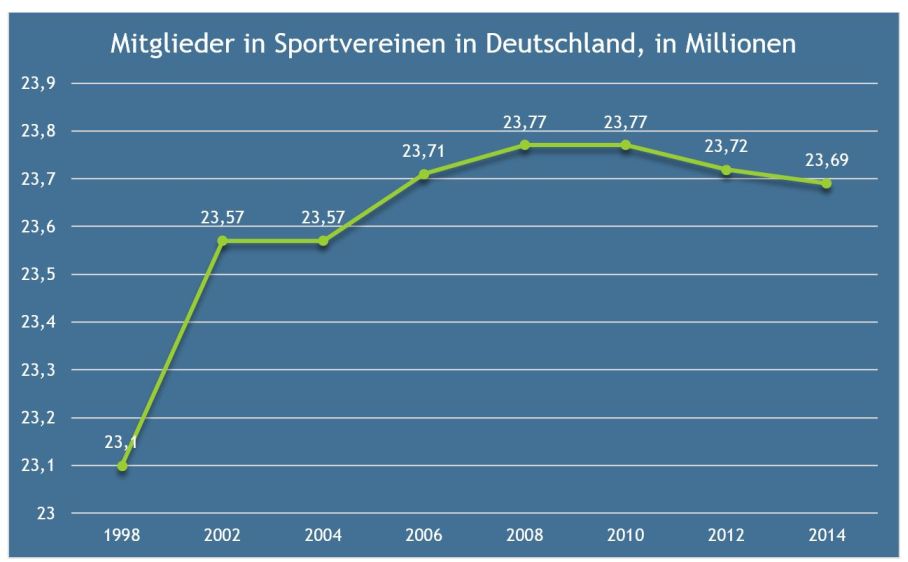 Source: German Olympic Sports Confederation / Statista.com
Many sports fans have discovered the fitness offers of other countries for themselves. Relax and stay fit is the motto of many travelers who use the special offers in distant countries to broaden their own horizons. This has brought about a major change in tourism, which is more and more aimed at the increased desire for more entertainment and sports options.
II. Suitable countries for sports holidays in Europe
1.II.i. Austria
Austria is a Mecca for winter sports enthusiasts, because with over 420 ski areas and more than 7300 kilometers of slopes at an altitude of up to 3440 meters, skiing and snowboarding is a must for Austria vacationers. Especially in Tyrol and Styria, winter sports enthusiasts have a good time, where most of the ski areas can be found.
Almost every fourth overnight stay in Austrian hotels is made by winter sports tourists who spend over billions of euros during their stay. Tips for exciting winter sports activities:
o Snowboard fun parks in Tyrol
o Horn sledge race in Zillertal
o Snow golf tournament in Achensee
o Snow volleyball in St. Anton
o Ski cross in Tyrol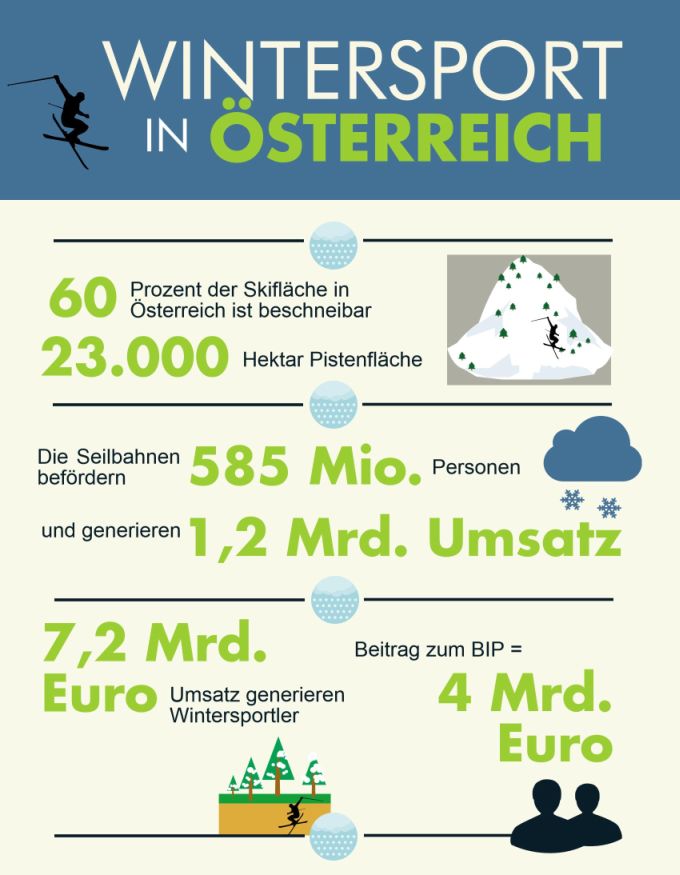 Source: https://www.wko.at/
1.II.ii. Switzerland
Winter sports enthusiasts are also in good hands in Switzerland if they want to combine vacation and fitness. Over 200 ski areas can be found here, including the Bernese Oberland, Central Switzerland, Graubünden, Ticino and Valais. Originally, many travelers came to the health resorts in earlier times to relax and enjoy the good climate. The alpine health resorts from 900 meters above sea level still have strong sunlight and a dry atmosphere, which Davos in Graubünden as well as St. Moritz and Andermatt use in particular.
But many of the ski areas are far away from the former health resorts, now it's all about fitness, action, après-ski and new fun sports. In addition to the numerous snow parks, there are many toboggan runs where you can ride sledges, snow trottis or snow bikes. In summer, sports tourists are active in the fun parks for climbing, hiking, summer tobogganing or BMXing.
1.II.iii. Germany
With the Alps in the south and the North Sea and Baltic Sea in the north, Germany offers numerous opportunities to do sports. The classic winter sports areas are mainly to be found in the Bavarian Alps, but also in other low mountain ranges in Germany such as the Black Forest, Thuringian Forest, Rhön, Ore Mountains or the Harz Mountains.
If you dare to try water sports, the North Sea and Baltic Sea are the right place for you, because there are numerous sailing and surfing schools there, such as in St. Peter Ording, on Sylt, on the island of Norderney, in Wilhelmshaven or on Langeoog. Kiel, Fehmarn, Rügen and Schönberg are popular on the Baltic Sea. There are also many lakes in the interior of the country such as the Steinhuder Meer, the Starnberger See, the Bodensee, the Wannsee, the Müritzsee and the Chiemsee.
Germany also offers numerous mountain bike and BMX routes that invite you to take longer road trips. The best BMX parks can be found at this link.
1.II.iv. Italy
Water and winter sports are the most popular sports for tourists in Italy, because the sun-drenched country is strategically located in the Mediterranean Sea and, with the Alps and 140 ski areas, offers a lot of variety for sports enthusiasts. Popular destinations for winter sports enthusiasts are:
o Lake Como
o Dolomites
o Lake Maggiore
o Piedmont
o Aosta Valley
Water sports such as surfing, diving, swimming, snorkeling, jet skiing or kite surfing are possible in the 200 lakes of the country in addition to the Mediterranean Sea. Lake Garda is a mecca for windsurfers, as is Lake Como and Gargano. Sardinia, Elba, Capri and Sicily are considered to be unique sailing and diving areas and many lakes also offer motor boating and water skiing.
This video shows unique impressions of a dive in Giannutri:
1.II.v. Spain
In Spain there is a variety of sports opportunities that adventurous athletes in particular discover for themselves. Hiking, climbing, skiing, sailing, diving and windsurfing are possible in addition to cycling tours, canoying, rafting or paragliding. Conventional tours on horses are also on offer as a new nature experience of sustainable tourism. Popular ski areas are in the Pyrenees and Sierra Nevada, such as Baqueira Beret, Cerler or Formigal, some of which have more than 100 kilometers of slopes.
Surf spots are located on the Balearic and Canary Islands, but also in Catalonia, on the surf beaches of the Costa Brava, Costa Daurada, Costa del Sol or Costa Blanca. There is also the opportunity to try out surfing and Andalusia in particular is characterized by kitesurfing.
Canyoning is a trend sport in which experienced climbers descend into gorges and push their limits. The outdoor magazine offers tips.
III. Question
Most people are aware that sport is becoming more and more important these days. But how far has tourism changed due to the increased demand for sports offers outside of the classic ski and surfing areas? Are the providers getting more and more geared towards sports tourism and is the outdated image of the old "climatic health resorts" long out of date?
In fact, holidaymakers are becoming more and more demanding and, thanks to cheap offers and better earnings, sports holidays are no longer uncommon. Extreme experiences compete with classic sports and are changing tourism in many countries over the long term.
1. The special form of the fitness journey - the boot camp
I. Bootcamp - a term used in the military
Whoever wants to be beautiful has to suffer, this saying no longer belongs exclusively to the repertoire of beauty farms or model competitions. A boot camp originally means a training camp for recruits who have to go through a tough basic training in order to be accepted and prepared for military service. Boot is the English term for the heavy boots that every soldier has to wear.
II. Different types of modern boot camps
There are many variations of modern bootcamps, such as re-education camps for delinquent young people, but also training camps for special sports activities and sports vacations.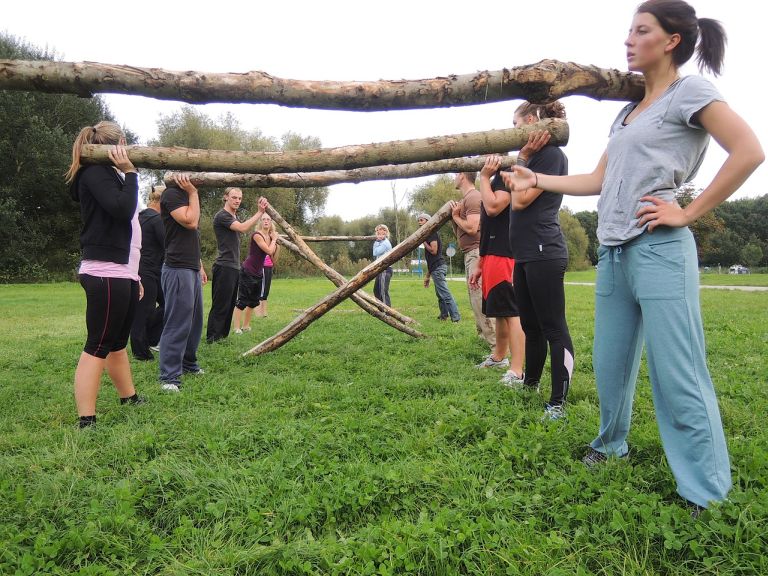 Source: Bootcamps are mainly carried out outdoors, Pixabay.com © vivian1965 (CC0 1.0)
There are also nutrition camps or camps to escape from everyday stress. What they all have in common is the basic military tone, because the coaches want to get the best out of their protégés or the participants and that is only possible with drill, discipline and a tight training plan. Most of the bootcamps are in the great outdoors in order to be able to carry out various obstacles and training units, but also to get a feeling of seclusion and isolation and thus to expand the performance and awareness of the training.
III. The point of a boot camp
1.III.i. Supervised sports offer
Fitness bootcamps ensure that even those who don't like sports can no longer avoid training, because on the one hand they have paid a lot of money for the stay and on the other hand, most people submit to the drill instructor or training coach. Subordinating to the guidance of the trainer is not easy for everyone, but the sports offer is deliberately tailored to the individual, so that a high level of motivation is to survive the camp and to get a new feeling of fitness.
Many camps work with training cycles, tight nutrition plans, but also counseling and relaxation phases, depending on the orientation of the camp and the wishes of the participants.
1.III.ii. Learning a new nutritional awareness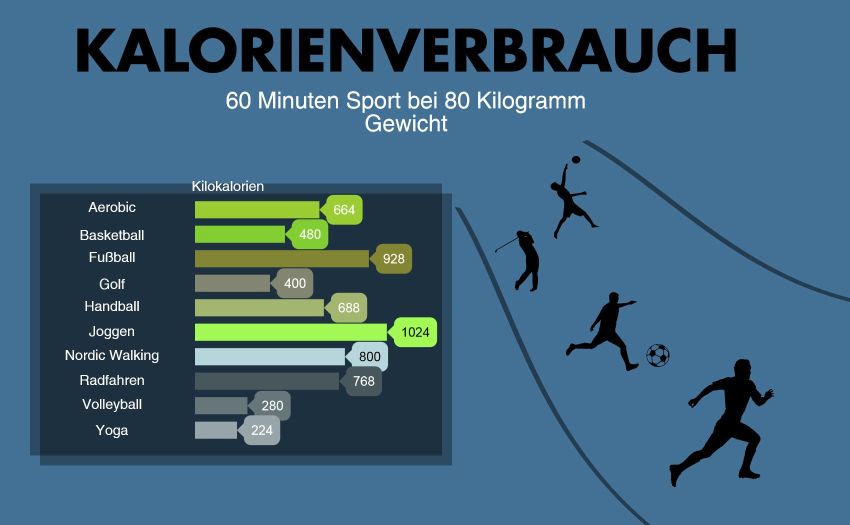 Source: http://www.joggen-online.de/
In the boot camp, the participants are usually cut off from the outside world. This also means that the diet is usually completely turned inside out in order to optimally obtain the desired effect of fitness and muscle building. Especially in camps where participants want to lose weight and improve fitness, strict plans, nutrition classes and education are the order of the day.
Due to the isolation and the lack of "sinful" alternatives, nutritional awareness changes radically and ideally remains even after the camp is over.
IV. Well-known fitness boat camps
One of the most famous boot camps is "The Biggest Loser", a format that is coming from the USA to Europe and in which the candidates have to lose many pounds within a few weeks in order to win the show. Most of the camps took place in southern Spain under the supervision of fitness and nutrition experts. But for extreme tourists, there is also an exciting military training course in the Sherwood Forest in England, such as Adrenalin in the Jungle, which not only includes fitness, but also exploring the surrounding area. Reach fitness is widespread in Portugal, with circuit training and three workouts a day.
There are now also luxury boot camps which, in addition to the hard drill with unusual sports, also offer luxurious relaxation options, from massage therapies to wellness offers. In Mallorca, for example, yoga, hiking, kayaking, muscle building and Pilates are on the program, with few breaks in relaxation, but in a secluded and unique environment.
2. The cycling vacation
I. Popular destinations - racing bike
2.I.i. Canary Islands
Lanzarote is particularly popular among racing bike fans, as the Ironman Lanzarote has been taking place here since 1992. The strong headwind is demanding and exhausting for many drivers and the altitude difference is tough, but harmless compared to Tenerife. The training is useful for advanced learners, but the island also offers sufficient opportunities for recreation. An example route can be found under the following link.
2.I.ii. Mallorca
Mallorca has been the island for racing bike enthusiasts for years, because it offers heights, flat stretches, developed paths and a breathtaking ambience for fast-paced sport. From February to April, the athletes train their muscles here and it is estimated that there are already around 100,000 cyclists per spring season. There are training weeks, numerous bike rental stations and fitness offers with hotel facilities and recreational offers. Roadbike.de summarizes some of the most beautiful tours.
II. Popular Destinations - Mountain Biking
2.II.i. Italy
Mountain bikers need mountains, hills, wild and open terrain to really let off steam. In Italy, for example, you can find this in South Tyrol. There the bikers have chosen some trails for themselves and an insider tip is the Ultental, which can boast heights of up to 2546 meters. On steep mountain slopes it goes along the Falkomai Lake, with a high pulse rate and rapid descents.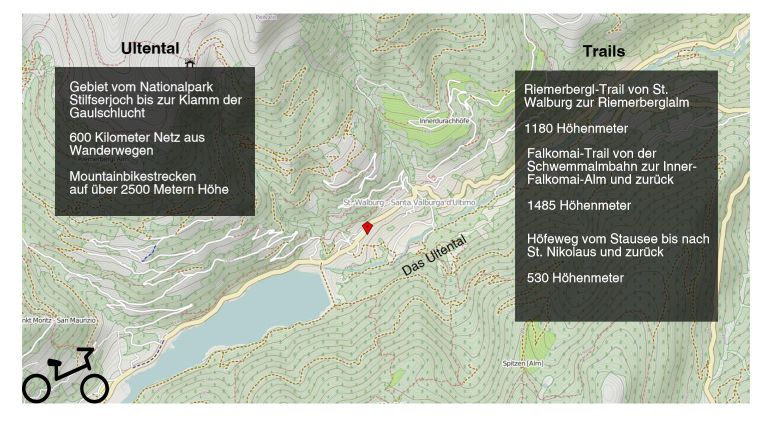 Map: © openstreetmap.de
The freeride trails of Finale Ligure with demanding and extreme tours are very popular. The coastal region is booming mainly thanks to mountain bike tourists, which trails.de emphasizes.
2.II.ii. Austria
In neighboring Germany, mountain biking is a sport that can be complemented well with winter sports. Sölden even calls itself "Bike Republic" and promotes trails, lifts and other offers for bike tourists. The region around Serfaus is repeatedly mentioned as a trail paradise, with its great altitude and contrasts of the Inn Valley, hiking trails and single trails.
Fitness is required here, but that is precisely what attracts most tourists to travel to Austria in the summer as well. Some hotels and pensions have accordingly specialized in mountain bike tours with guided personnel. The Donau-Rad-Weg in Austria achieved a record turnover of 100.5 million euros in 2012, in 2014 it was 92 million euros, which came from overnight stays, short vacationers and day tourists alone.
2.II.iii. Switzerland
Switzerland is ideal for mountain bike tourists, because there is a lot to discover and explore between glaciers, passes, valleys and depressions. The alpine passes are demanding and spectacular. The Schrofenpass, for example, is the lowest crossing in the Allgäu Alps at 1,687 meters and is therefore popular with mountain bikers.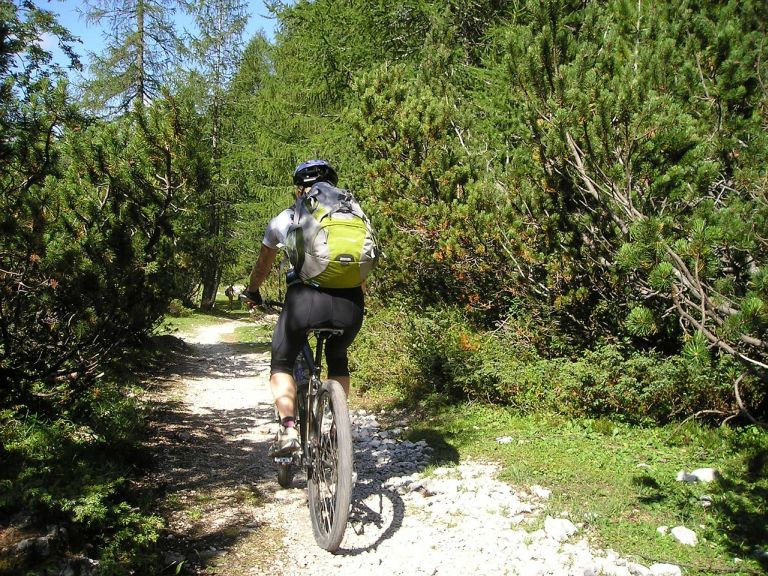 There are trails for mountain bikes throughout Switzerland; Pixabay.com © Simon (CC0 1.0)
Good regions are Graubünden, the Bernese Oberland and Central Switzerland. In Graubünden, 4,000 kilometers of marked bike trails are particularly suitable for beginners, but advanced riders will also find their single trails and slopes among the 5,000 mountain bike tours. The largest bike park in Europe is located on Swiss territory in Champéry / Port Du Soleil.
There are four parks in the Port du Soleil holiday area, with numerous downhill routes, trails and variety. Further information is available at bikepark.ch.
3. Mountain hiking in the Alps
I. Popular mountains
Mountain hiking has nothing to do with an easy walk through the Alps, because it is hard work and requires a lot of stamina and stamina. 128 mountains with at least 4000 meters can be conquered, but mountain hikers should keep their distance and dare to climb the smaller mountains, which can be conquered without glacier equipment.
Beginners try the Hinteren Schöntaufspitze (3325 m) or Munt Pers (3207 m) in Switzerland. For experienced hikers and mountaineers, the Hohe Sonnenblick of the Goldberg group or Sass Rigais of the Dolomites are interesting. However, there are some via ferratas and hikers should best master the Sass Rigais in two stages.
II. Crossing the Alps on foot
3.II.i. The routes
There are a few routes that lead across the Alps and are easy to do on foot. These include, for example, the dream path from Munich to Venice, the GTA Grießpass in Switzerland to Ventimiglia or the Alpe Adria Trail from the Großglockner to Muggia.
The best known is the E5 from Oberstdorf to Meran, a distance of 140 kilometers with 19,000 meters of altitude and eight stages. The highest point is the Pitzaler Jöchl at 2995 meters. Alpininfo Oberstdorf explains that alpine experience must be available for the stages in order to be able to master the route well.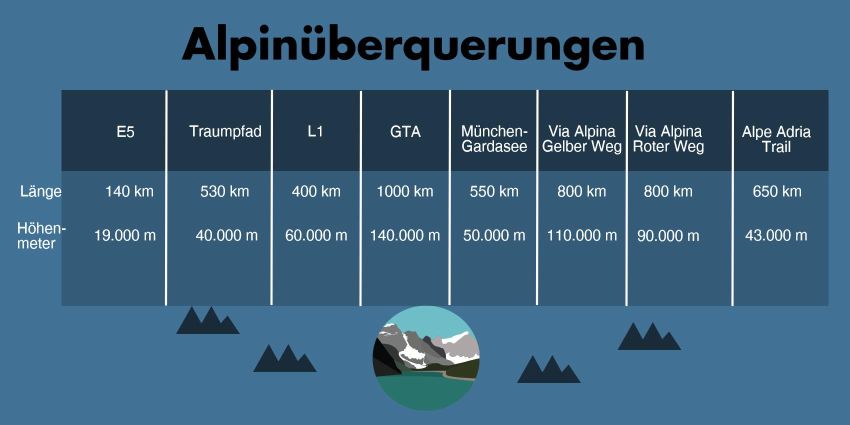 Source: http://www.alpenquerung.info/
3.II.ii. For beginners and professionals - the different levels of difficulty
Beginners should not consider crossing the Alps as their first stop unless they are in a very good physical condition and are in basic fitness. The mountain air in particular can cause problems for many inexperienced athletes. The routes from Garmisch to Brescia and Trieste to Oberstdorf are very demanding.
The Via Alpina demands that there are often lonely mountain regions to be conquered, in which there is no overnight accommodation, so that in some cases very long stages have to be mastered. Between five to ten hours of walking should be allowed for per section.
The E5 long-distance hiking trail is a classic among Alpine crossings and is very crowded with tourists. Due to the mountain hiking culture, tour operators in particular have jumped on the bandwagon and many mountain villages and mountain regions offer numerous guided tours, events and places to relax. This video offers an insight into the different stages of the E5 long-distance hiking trail:
4. Extreme vacations
I. Climbing Mount Kilimanjaro
4.I.i. The duration
At almost 6000 meters, Kilimanjaro is the largest mountain in Africa and consists of three extinct volcanoes and three peaks:
Uhuru / Kibo 5895 meters
Mawenzi 5149 meters
Shira 3962 meters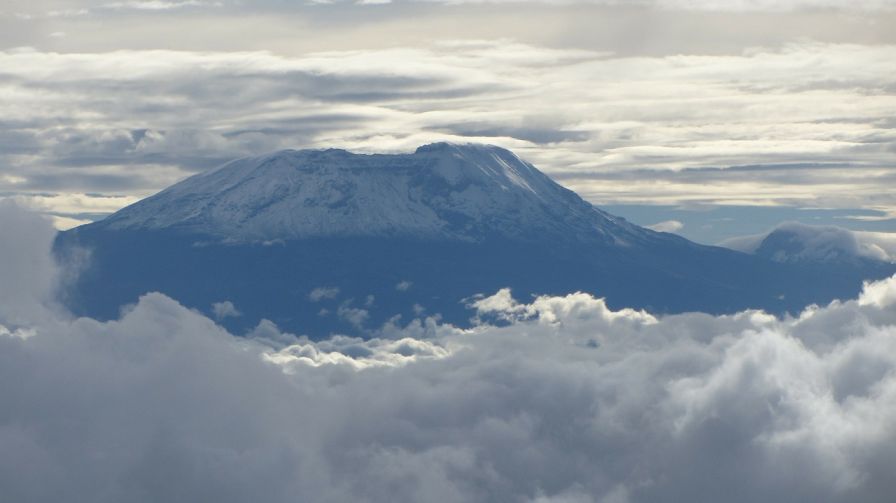 Kilimanjaro is the highest free-standing mountain in the world; Pixabay.com © Lisebonne (CC0 1.0)
Five routes lead to the Uhurupeak, which, depending on the orientation, place high demands on the hikers. Usually five to seven days of a tight program with five to seven hours are scheduled, so that a certain level of fitness and altitude tolerance should be available. However, up to 14 hours are often set for the summit day.
Thickets, rocks, scree and mud show impassable terrain and degrees of cold of up to minus fifteen degrees. The best time to climb the mountain are the dry months from December to February, because in the rainy season from March to June some of the paths are impassable.July to September is the "African winter", in which a tour is possible, but significantly colder temperatures must be taken into account.
4.I.ii. The right equipment
Good mountaineering and hiking shoes are essential for a demanding tour on Kilimanjaro. They should have run in well and have already been tried out. Functional underwear, thin and thick trekking socks and a well-insulating sleeping bag must also be brought along. Cotton clothing is not recommended due to the high level of moisture and exertion; quick-drying functional shirts are better. Bergsteig.com offers an insight into the routes and the demands.
4.I.iii. Visitor numbers
Tanzania is one of the most popular travel destinations in East Africa. Due to its many national parks and the varied natural landscape, there are many travelers in the country who not only go on safari tours, but also want to take with them sporty borderline experiences. Kilimanjaro National Park has at least 40,000 to 60,000 visitors a year, including day tourists and mountaineers.
Many of them usually spend over $ 1,300 for the ascent plus additional souvenirs and stimulate the economy in the country. Kilimanjaro is the focal point of climbing tourists in Africa and many travelers stay in the country for more days, for example, to recover from the exertion. According to a World Bank report, tourism contributes 13 percent to Tanzania's gross domestic product and employs over a million people.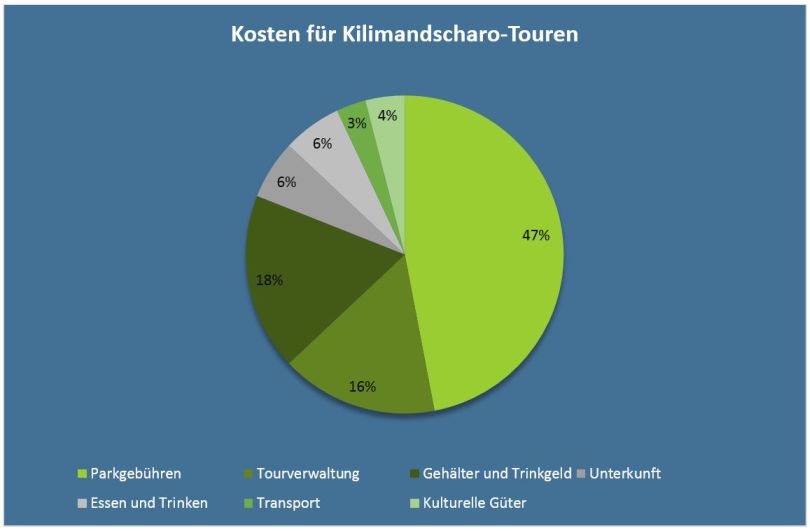 Source: http://www-wds.worldbank.org/
II. Trekking tour on the Inca Trail
4.II.i. The duration
Machu Picchu in Peru is one of the most fascinating sites in the world. The mysterious and still not fully explored culture of the Incas attracts numerous tourists to the Inca Trail, which leads 44 kilometers through the Andes. Four to five days are recommended, with four to eight hours of hiking per day. Now only guided tours are allowed.
4.II.ii. The right equipment
The most famous trail is very accessible and designed for tourists, so that almost all equipment can be rented or bought on site. Nevertheless, it is advisable to bring good walking shoes, a light sleeping bag that will keep you warm to freezing, and rainwear. The trail is closed in February, the best travel time is from May to October. It is important to get used to the altitude before the trail and not to start the journey directly with the ascent.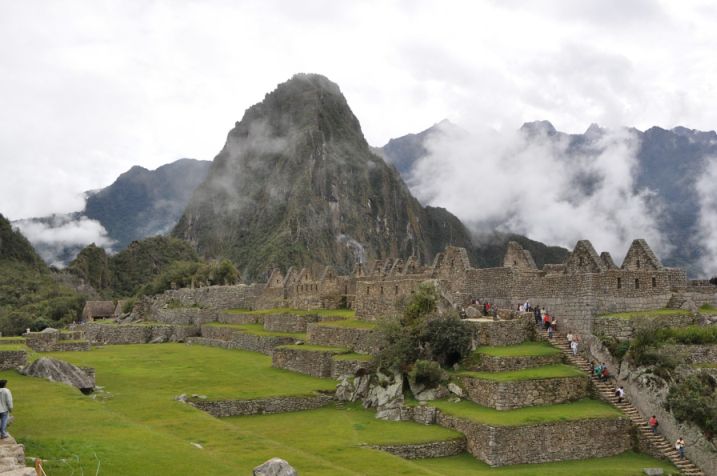 The streams of visitors in the Inca City do not stop; Pixabay.com © ideasam (CC0 1.0)
4.II.iii. Visitor numbers
Since the Inca city is very popular with tourists, the number of visitors increases every year. In order to protect nature and the valuable sites, since 2004 only 500 hikers have been allowed to march on the trail per day, so that it is necessary to book for months beforehand. Only 2500 visitors are allowed to visit Machu Picchu per day so that the site is preserved. Erlebe-peru.de gives tips against the notorious altitude sickness and other health factors in Peru.
5. Conclusion
I. Summary
Tourists around the world are on the march to conquer even the most remote corners of the earth for themselves. Sports tourists in particular are looking for new extremes, which have now become a mass phenomenon, such as climbing Kilimanjaro or the route of the Inca Trail. Likewise, many regions in Europe have focused on tourism with sports elements, above all the winter sports areas and the coastal regions.
II. Answering the research question
Within the last 50 years, a change in values ​​has taken place, especially in tourism: Sport is no longer an annoying prescription from a doctor, but should be an experience that explores one's own limits and takes travelers to unknown places. Many countries are focusing on sports tourism in order to retain even more holidaymakers, while others offer sports opportunities in addition to the entertainment program in order to inspire a large number of guests for the holiday destination.
The health concepts of many health resorts have changed in favor of sport and the environment has been changed with hiking trails, cycling routes and other sports facilities. For many holidaymakers, the selection of sports offers is crucial for the decision of the holiday destination, and so sports tourism makes an important contribution to the turnover of total tourism in the respective countries.