What is the future of infographics
Infographics 1 - The future of digital knowledge transfer or just a trend?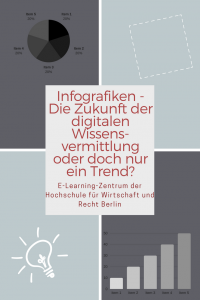 Infographics are clearly presented collections of information, data and facts. There is already a very large spectrum of infographics on all conceivable topics, with the form varying from simple pie charts to very elaborately designed representations. For many people, this is a contemporary way of quickly passing on information, which until now has mainly been used in marketing and social media. In connection with infographics, one often speaks of a temporary trend. But is this possibly the most common way of digital knowledge transfer in the future?
In the following article I would like to explain what infographics are used for, when it makes sense to choose this form of representation and which tools are suitable for this.

Why are infographics so popular?
By visualizing complex relationships or data sets in a kind of collage, you can convey as much content as possible in the shortest possible time. Suitable for today's knowledge society, which prefers graphics over long texts. In times of low attention spans, they are also suitable for conveying content precisely and appealingly. Due to the structured interrelationship of a lot of data, which is limited to the most important, users of infographics do not have to search for and combine information for a long time.
But when does it make sense to choose an infographic as a form of presentation?
There is probably an infographic about every topic by now and this means is often used for pure entertainment. However, if one tries to impart knowledge, to visualize data or to create informal teaching content, one should consider whether this tool is appropriate for this. In the case of complicated procedures, workflows, processes or complex issues, an infographic can be constructive. This also applies if you cannot easily incorporate your information into an uncomplicated text or if it is very difficult to convey important relationships verbally.
If you decide to create an infographic, you should consider a few things.
Basically, good infographics are based on properly researched data and facts, which can be substantiated by scientific sources. In addition, a clear and unambiguous presentation is an advantage. It must allow itself to be interpreted by every observer without contradiction. If you want to go one step further and not only convey knowledge, but also possibly attract attention, it is advisable to choose an original topic. A special design, as many suitable diagrams and statistics as possible and possibly an eye-catcher can also be helpful.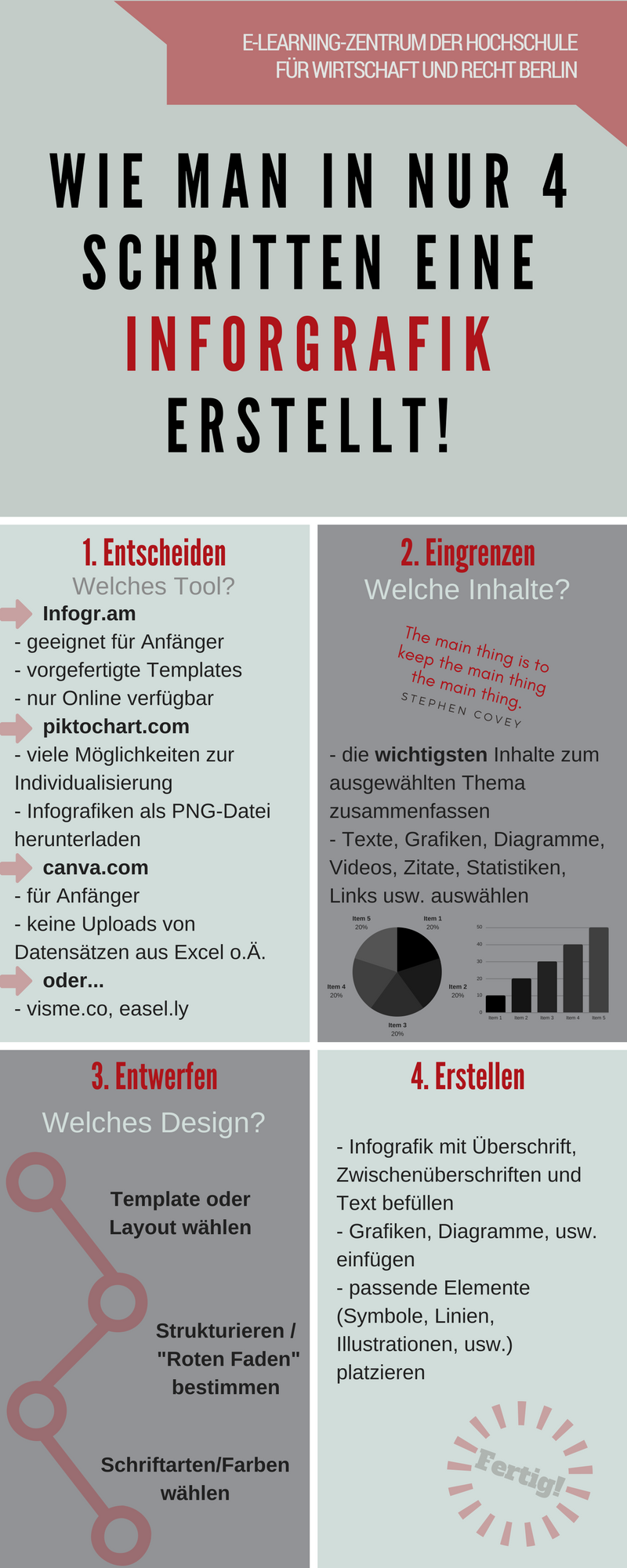 Here we go!
There is now a very large selection of agencies, websites and tools for creating infographics. Many of them are chargeable or too expensive (designed for marketing measures). I go on below three free applications, which optionally also have additional functions that are subject to a fee.
1. Infogram
The basic account at Infogram is free and contains the most important elements, such as ready-made templates and the option to import data from spreadsheet programs such as Microsoft Excel. It is particularly suitable for statistics and diagrams. A disadvantage is that the created infographic cannot be downloaded, only embedded.

2. Canva
Canva is free and, in addition to the ability to create infographics, includes a lot of other design options, which makes it a bit more complicated to use at the beginning. However, there are many ready-made templates that enable beginners to achieve appealing results very quickly. The infographic on the left: "How to create an infographic in just 4 steps!" I created using Canva.
3. Piktochart
Piktochart is also free of charge and offers many customization options. The application is still very simple and has a very clear user interface. Infographics can be downloaded from Piktochart.
Finally, one should consider the negative aspects of an infographic ...
A well-researched and flawless infographic requires a lot of preparation and research. In addition, there is the time that you invest in designing it appropriately and filling it with graphics and illustrations. If you don't want to spend this time, you can get help from specialists or agencies, but this is associated with costs. Another general negative aspect is that due to the trend, many people also tend to create infographics that are not based on facts and thus a lot of false information is spread.
Whether this is the future of digital knowledge transfer is of course questionable and whether the hype will soon subside, as opinions differ. Personally, I don't want to do without infographics in the future, but this page could be interesting for all infographics opponents. 😉