Interview: DON FELDER (Ex-Eagles)
When the top stars of the rock music scene set out into deepest Lower Bavaria once a year to perform their classics in collaboration with the Mat Sinner Band and the Prague Symphony Orchestra under the name "Rock Meets Classic", it is for a music blog An honor for our size when ex-Eagles guitarist Don Felder agrees to meet us. Looking forward to a conversation with the man who made himself immortal with the Eagles classic "Hotel California", I waited, smoking a chain, in front of the stage entrance to the Dreiländerhalle in Passau.
Hello Don, thank you very much for making it possible for us to meet you here today.
DF: Thank you, I'm happy too.
Inevitably, questions about the Eagles cannot be avoided, but more on that later. Since you left the Eagles, you've only published a solo album, but also a book. Are you a music-making writer or a writing musician?
DF: I think both. When I think back to my time with the Eagles, there were five very good musicians. Everyone sang, everyone wrote songs, and everyone played. We came from a wide variety of styles. Glenn from R&B, Don Henley from Texas Southern Country, me from Rock. So, of course, differences arose in terms of our musical direction, but also the production and the arrangements. When the Eagles finished, I was suddenly responsible for everything myself. If you listen to my last solo album "Road To Forever" and also songs from my new album, which I am currently working on, you will find a lot of rock´n´roll, country-rock, a ballad, but also a wonderful children's song on it. I am not narrow-minded in this regard and only fixated on one style of music. There are so many interesting styles and genres of music in the world, and I have also played and recorded with many different musicians from different genres.
Oh, a new album. Can you already give us a title and a release date?
DF: No, I can't give you a title yet. It will most likely hit the market this summer. The exact time has not yet been determined. Seven pieces are finished, two or maybe three more I have to finish. However, there is still a US tour with STYX and REO SPEEDWAGON on the program, then the last work on the album will start.
There are a lot of well-known musicians on "Road To Forever". Friends or Guest Musicians?
(Steve Lukather pokes around the corner and points out that he was also part of the party)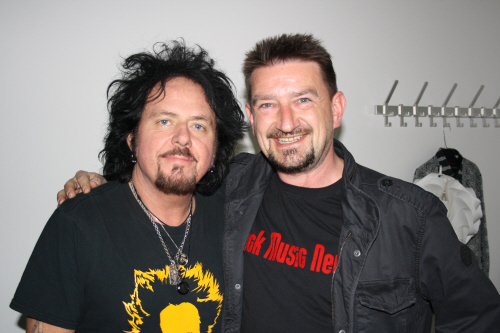 DF: More like friends, I felt honored that e.g. Luke (Steve Lukather) accepted immediately.
SL: I love you too, Don….
DF: I've known Stephen Stills since we were 14 years old. I played with Graham Nash as early as 1973 before I joined the Eagles. I've been thinking a lot about who could be playing on Road To Forever if I should ask. Then I created a roadmap and assigned my "dream musicians" to the songs. Then I could ask the individual artists if they would like to take part on my album.
You published your biography under the title "Heaven and Hell - My Life In The Eagles". What is heaven and what is hell
DF: I think every relationship or partnership has its ups and downs. With the Eagles, the highs were extremely high, but the lows were correspondingly abysmal. The time was so incredibly exhausting and difficult. We have been as successful as we could not have expected in our wildest dreams. One line of text in "Hotel California" reads "… .this could heaven and this could be hell….". I thought that was the perfect title for my book.
You were five incredibly talented, but also different musicians and very successful together. Was that the main reason this band broke up?
DF: No, there were definitely more reasons. But watch out, I'll tell you something. When we started making music, we were almost children. With success, everything got bigger and bigger and bigger. Every new record should or had to be better than the last. We have probably reached the last step of the ladder of success, because it was simply impossible to top the success of "Hotel California" in any way. Through the constant album-tour-album-tour process, the magic has simply been lost. We didn't plan it that way, but it turned out that way. It got kind of frustrating that we had to go back on tour right after a record was released. We started to swear at each other. In addition, of course, alcohol and drugs also played a very important role at the time.
After completing the tour for "The Long Run", Glenn (Frey) said: "… so, that's it, I'm getting out…". He called Don (Henley) and told him that he could no longer work with him and would get out to do a solo album. Glenn didn't want that anymore, he always called it "the hardenning of the artistry", which means that while it is difficult to be successful as an artist, it is even more difficult to remain successful. The Eagles didn't break up, Glenn dropped out.
Despite all the differences, were you very upset when you found out about Glenn Frey's death?
DF: I don't want to talk about that, out of respect ...
(During the conversation, a visibly good-humored Steve Lukather enters the room to find out what his buddy is doing and who he's talking to)
SL: Hello, how are you?
Thank you, Steve .... very good - and he was gone ....
Are the rumors true that Duane Allman taught you how to play slide guitar?
DF: Yeah, we both grew up in the same place, Gainesville. Duane was the first one I saw playing slide guitar and I was so intrigued that I said to him, "Show me this," after which he showed me the basics of slide play.
How does it feel to be the author of one of the most successful rock songs of all time?
DF: Hmm ... an example ... Four years ago I played a show for the United Nations in New York City. There were about 500 people - presidents, ministers, state secretaries, etc. About half of them didn't speak English. When we played "Hotel California" everyone stood up and collectively sang along with the lyrics.
Finally, a question about the current "ROCK MEETS CLASSIC" tour. What made you decide to be part of this tour?
DF: I've played with different orchestras before, just think about the Hell Freezes Over Tour with the Eagles. It is an uplifting experience for a rock musician to play with an orchestra, a completely different feeling, a completely different magic. When I received the request for this tour, I accepted immediately. Especially because I just love Germany. Do you know in which countries we celebrated the greatest successes with the Eagles?
Uh, no ... probably in the US?
DF: No, in Germany and Japan
Oh ???? Seriously….???
DF: Yes, a lot more than in the USA. There were just too many bands at home that looked like the Eagles, that was probably one of the reasons. It also sounded very interesting to me to tour Germany with an orchestra and many well-known rock musicians.
Many thanks to Don Felder for this interview and have fun in Germany. We look forward to your next album.
DF. Thank you as well.
Author's note: we would have liked to report on Don Felder's performance in Passau. According to management reports, however, the media top dog in the city of three rivers has made use of his problems with competitors and - for whatever reasons he may - his exclusive rights for the show review. So what….!!!!
Author: Jürgen Hüsemann - Pics: Jürgen Hüsemann