Why is Russia so against LGBTQ
Russian LGBT activist murdered
"She often didn't think of herself, but of the others," says Maxim Olenitschew in a hushed voice. He knew Jelena Grigoryeva well. Both were active in the Russian LGBT group "Wychod" (in German: "The exit") in St. Petersburg. The death of his colleague shocked Olenitschew and many people in the gay and lesbian community - and not just her.
40-year-old Jelena Grigoryeva was murdered with multiple knife wounds on the evening of July 21. She was found dead in a bush a few hundred meters from her home in Saint Petersburg. The police started an investigation. There are still no suspects. However, acquaintances from Grigoryeva's circle said that Grigoryeva had previously received death threats.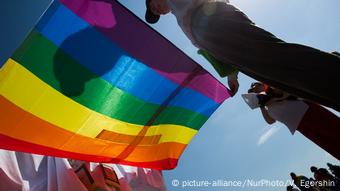 The activist was involved in the LGBT marches in St. Petersburg
Massive threats
"These death threats were linked to her work as an LGBT activist as well as her criticism of Russian domestic and foreign policy," Ksenia Mikhailova told DW. "Still, I couldn't believe it when I heard of her death," says the young lawyer who defended the murdered activist in her own words, for example when she was on trial for "disturbing the public peace" for organizing LGBT demonstrations Mikhailova accuses the police of not taking the death threats against her client seriously: "I am now wondering how this murder could have been prevented. Perhaps if there were a legal mechanism in our state that would force the police to pursue such death threats with all seriousness. "There is no such mechanism.
Mikhailova reports massive threats and insults against her client recently. She criticizes that the police have remained inactive every time, although several people bragged about their deeds online and threatened Yelena Grigoryeva. The lawyer does not exclude people "from nationalist circles" as potential assassins, and neither does a personal conflict as a background for the crime. However, the uncertainty is now high in the gay and lesbian community.
"We will not be intimidated"
Mikhailova also tells of a homophobic Internet project called "Pila", whose goal is the extermination of homosexuals: "The authors of this page publish information that they are planning murders of LGBT activists or entire organizations. They even publish lists of people they want to destroy. Yelena Grigoryeva was one of these people. "
Grigoryeva's colleague Maxim Olenitschew also knows the site, but does not want to lose courage: "We have got used to the fear. Since 2013 there has been a law in Russia against so-called gay propaganda, which makes life difficult for many LGBT people. Ours The association helps the victims of stigmatization and discrimination. We won't be intimidated. We continue to fight for our rights. After all, we live in a European country. "